Mining Plans Guide
Home Mining Plans Introduction
Are you looking for the simplest method to mine Bitcoin or other coins from home? And one which provides cheap electricity, and requires no expertise or special equipment at your house? Then enrolling in a Managed Mining Plan (sometimes called a "co-location" arrangement) is your best option.
When you enroll in an online mining plan, you're booking a service which will professionally manage a high-power mining computer (an ASIC) on your behalf and report the operating and profitability results to you in real time on your laptop. An ASIC (short for "application specific integrated circuit") has one task, to mine specific types of cryptocurrency.
The mining company will assign an ASIC to your account at their mining facility (which is a data center). Or you can send them your own ASIC for installation if you prefer.
Everything is managed for you. You simply set up an account with a payment method and wallet (which stores the currency you mine), and begin mining.
When you enroll in a plan, you'll pay the cost of the ASIC (unless you ship them your own) plus the company's management fee, which is included in their price per kilowatt hour (kWh) for the electricity used to operate the equipment.
Commercial mining operations typically have access to low-cost electricity, so the total bundled kWh rate you pay for electricity and their service will often be less than your home's electricity rate.
Consider the risk when investing.
Investing in cryptocurrency, and crypto home mining equipment and services, involves risk. Consult with a qualified professional and conduct due diligence before making any financial decision. MinerBeast helps the mining community by providing information, but does not make recommendations regarding investments in home mining products and services. Our content depends on the accuracy of information provided by industry sources, which can change quickly and cannot be guaranteed. We make no representations or warranties about the accuracy, completements, or timeliness of our content. Use of information available on or through this website is at your own risk. See our Terms.
What is an Online Managed Mining Plan?
An online managed mining plan is a home mining service package offered by a professional cryptocurrency mining company, providing you with a simple, low-cost method for mining crypto coins from home, especially Bitcoin.
No expertise or home equipment is required, and your electricity is not used. The mining company provides everything.
After setting up an online account and enrolling in a plan, the mining company will install a high-power ASIC mining computer and operate it to mine on your behalf at their facility. You'll receive real-time reports and profitability results on your home computer or mobile device.
Managed mining companies operate large data centers  filled with thousands of ASICs that mine crypto 24/7. Importantly, they have access to very low-cost electricity (often from a renewable source), which is necessary to mine profitably. 
You can start with just one ASIC, and then grow as you learn and earn coins. And if you purchase the ASIC from the mining company, you can be mining in as little as three days!
Crypto Caverns Managed Plans
A well-managed mining company to consider is Crypto Caverns. They are located in the U.S., use renewable energy, and are small enough to deliver a custom service and respond to your needs quickly. Crypto Caverns also has very competitive pricing. Take a look at our Caverns page.
How Do I Enroll in a Managed Mining Plan Online?
Step 1. Choose a Retail Mining Company
There's an array of managed mining companies to choose from, and we have some tips to consider when selecting a provider. As you might guess, some are high quality and others you'll want to avoid. 
We recommend that you work directly with small to mid-size mining companies, which provide more personal service and have tighter control over their operations than large retail colocation miners.
There are also large platforms which outsource their mining to third parties and will connect you with their contracted facilities. But these decentralized operations have gained a reputation for having major quality assurance problems, and their mining facilities are often located in remote areas around the world (which may be unstable and difficult to manage); many are not climate friendly, using large quantities of carbon-sourced energy.
It's important to research any retail miner you are considering. The best way to find helpful information is to reach out to previous customers (you may find them in the company's social media posts), conduct Google searches, and in the case of public companies, read their securities documents (they are more apt to be factual in government filings).
This step is easy. Your machines will be set up by the facility staff. However, they may take some time to begin mining. You will just need to set up an account with the provider and have a crypto wallet established where your earnings will be deposited. 
Step 3. Check Your Profits
Once everything is set up on the mining company's end, you will be able to check in on your machine's status and your account. Payouts will be sent to your account, and from there may be withdrawn to an external crypto wallet.
Mining Company Selection
Where are the ASIC machines being hosted?
Look for transparency regarding the location of a provider's data center facilities. If you are considering a provider that does not disclose the location of where your machines will be hosted (or if they will be hosted in a foreign country), it is important to consider the security, economic and political risks. Machines hosted outside the United States have been confiscated or forced to stop mining abruptly in the past for reasons beyond the mining company's control, and customers have suffered extended downtime and left with little recourse in recovering their equipment.
Is the managed mining company reputable?
If the company is public, you will be able to look up their securities disclosures and review their financial condition and past history. If the provider is private, it may be more difficult, but you can see whether there are comments regarding the company's financial condition listed with the Better Business Bureau, Consumer Financial Protection Bureau, financial news sources or government sources (including bankruptcy filings). You can also purchase a Dunn & Bradstreet report for clues on their condition if the size of your investment justifies the cost.
Is the location hosting the machines secure?
The location should have active security systems and be able to provide you with their security protocols that will protect your equipment from any physical or cyber security threats.
Does the company use renewable energy?
Not only are renewable energy sources better for the environment, but they are also less susceptible to be a target if there are crackdowns on mining operations due to grid power supply and outage issues, or if there are regulatory pressures on carbon-sourced facilities.
Mining Machine (ASIC) Considerations
What is the minimum number of machines required to enroll?
Your choices for mining may be determined by the amount of ASIC machines you plan to initially order, or that you own and plan to send to the mining company for installation. MinerBeast works mostly with co-location facilities that have a "no minimum" policy and only require that customers order a single unit to get started. Some companies require that you order five or more. Of course, you'll be able to make more profit when you are running more machines, but the upfront cost and risk is higher.
What discounts are available as I add machines?
Some companies offer price breaks as you add machines. It is worth asking if they offer such a pricing program and at what threshold the discount becomes active.
Do they offer a "buy-out" option if I want to stop mining?
Mining companies may offer a buy-out option, allowing you to sell your machine to them if you decide to stop mining during your contract period. If you think this is something you may want to consider, see if your provider offers such a program.
What happens when the machines "age out" and are no longer supported?
In order to keep machines running effectively, mining company providers want to utilize relatively new equipment. As a result, most providers will only support each mining rig model for about three years. It is important to know what options you will have when they deem your equipment obsolete for their service.
Hosting Fees and Electricity Costs
What fees are charged by mining companies?
Mining companies should provide transparent pricing for ASIC mining machines, as well as their electricity rate and other pricing details.
Other fees may include an initial setup fee to get your machine up and running, an ongoing maintenance fee, a "space rental" fee if you do not purchase your machine from the provider, etc.... Check to see if these fees are charged and if they are recurring, per year, or one-time charges.
Check out home mining plans from providers featured on MinerBeast for specifics. 
How do I compare online managed plans to self-mining at home?
Some of the items to consider in your comparison include:
(1) An online managed mining plan will usually include a fixed electricity rate that will be passed on to the user in a price per kWh. Typically, the cost of electricity is deducted from the value of the coin amount mined. Electricity rates charged by mining companies are often significantly lower than the average residential electricity rate, depending on where you live; plus, the electricity fee covers the professional management of your machine.
(2) You'll need to factor in the cost of repairs and maintenance. In quality home mining plans, repairs are included in the electricity fee. 
(3) If you want to mine with more than one or two ASICs in your home, you may need to make expensive adjustments to your home electrical system and possibly invest in a cooling solution for the machines.
(4) Remember that ASICs generate a lot of heat and noise, though you can purchase special home mining compartments designed to tackle these issues, such as the Black Box from Upstream Data. 
What are fractional share fee structures?
There's a new type of fee structure offered by some mining companies in which customers can buy fractional shares of the highest-powered ASIC machines (which have the fastest payback times), rather than purchasing full ownership of a machine for thousands of dollars that may have an inferior return on investment.
For example, you would pay less than $100 for 1/100th ownership in a high-end ASIC, and receive 1/100th of its revenues, which would return a higher ROI. You'll find fractional share opportunities on MinerBeast as it adds quality mining companies. 
Customer Service & Repairs
What am I looking for in customer service?
The home mining market is new and unfamiliar to most consumers, so customer service will be very important as you learn the ropes to get started.
When you have a problem or a concern, will you be able to contact the company via phone, email or in-person at their facility? You should expect prompt replies to your questions, with transparency and good follow-up.
Try to contact them at various times of the day to check their response times and quality of service. If they aren't responsive with prospective customers, they likely won't be able to help when you are in need of assistance.
Also, we recommend working with reputable small to midsize operations which have data center mines only in the US. The smaller companies tend to be more customer-focused and passionate about continuously improving their operations to build a loyal client base. Often their entire team consists of smart technicians with hands-on experience, who have in-depth knowledge to answer questions. 
What type of maintenance and repairs are available?
You'll need to have confidence that the mining company you select has a strong technical team and a solid repair and maintenance program.
ASICs are powerful computing processors and as such, they require regular maintenance.
Things will occasionally go wrong, and you want to be assured that the provider will be servicing your mining equipment on a regular basis to preserve their value and keep them running efficiently with a high uptime.
One indication of whether a company has a good maintenance program is reflected in their guarantee of uptime.  We would recommend using a mining company that guarantees at least 95% uptime for your account; in order to maintain such a level of uptime, the company would need to have a professional maintenance program and have adequate spare parts. They should also have an inventory of spare machines to switch out your machine with theirs while yours is being repaired. 
We would also recommend using mining companies that include the cost of repairs in their electricity fee. Otherwise, they could bill you separately for repairs on a time and material basis, and run up a bill. You don't want to have an open-ended repair expense, which could create bill surprises. 
Uptime
What is uptime?
Uptime refers to the amount of time machines being managed for your account are operational and actively mining to generate revenue.
If the machines you own are temporarily down for repairs, the mining company may substitute a machine from their inventory in order to maintain their uptime guarantee to you.
Finding a company that will guarantee a high percentage of uptime is key to a profitable online management plan.
What is a reasonable uptime to expect?
Uptime has a direct impact on your profits, and we would not recommend that you enroll with a company that will not guarantee a specific uptime.
Also, anything less than a guaranteed uptime of 95% should be a cause for concern. 
On MinerBeast, check out CryptoCaverns, which provides online managed mining plans with a 97% uptime guarantee. Also, the cost of repairs and maintenance is included in their electricity fee. 
Contracts
What mining plan contract length options are available?
Providers will typically offer online mining management plans with one, two, or three-year contracts.
Due to the fact that home mining is still in its infancy, and new developments in technology and customer offerings are occurring rapidly, we would not recommend that you enroll in a contract greater than one year, at least not until you've had time to test out your selected home mining company and are satisfied with the results. 
One of the only benefits to locking in a contract for longer than one year might be a low guaranteed, multi-year fixed energy rate. Of course, there's always a risk that energy rates will increase, so a low, long-term locked rate is something to consider.
What penalties are there if I need to break the contract?
Be aware of any penalties or other financial consequences you may incur if you need to get out of your contract for any reason, or if the provider terminates the contract. 
Account & Machine Setup
Why do I need a crypto wallet to enroll, and how do I get one?
You will need a crypto wallet to enroll in an online mining plan in order to store the digital currency you have mined.
If you haven't already set up a crypto wallet, here are instructions from major wallet retailers on how to set up popular wallet options: Trezor, Ledger Nano S Plus, Exodus, Trust.
How long will it take to setup my online account and the machine?
If you have all of your information handy to enroll in a mining plan, and your crypto wallet has already been set up, it should take you less than 15 minutes to complete the online enrollment process. 
After you enroll, the ASIC mining machine you select will be set up by the provider to begin mining. If you purchase an ASIC from the mining company, the set-up of the machine in the mining facility will begin soon after. A purchased machine could be mining in as little as three days from your enrollment. 
Of course, if you prefer to ship the mining company your own ASIC for installation, the set-up time will be greater due to shipping and it could also be impacted by the model of machine you're using. You will need to check the projected set-up schedule with the company in such cases. 
How do I ship my own ASIC?
Ask about the process for shipping your own machine. And find out if there are any special packing instructions or insurance necessary to ship it.
Mining Pools
What is a mining pool and do I need to select one?
Mining pools are groups of crypto miners who work together to combine their computing power to generate more crypto coin than they could generate individually.
The mining pools divide the payouts according to each participant's contribution. The miners must pay the pool manager a small pool fee to participate.
Managed mining companies will often have a preselected mining pool which they use, and you will not have to make a choice of pools. Otherwise, they may offer you a selection to choose from, or you can select your own.  If you select a pool, see if they will automatically connect you with the pool of your choice. 
For advanced miners, can I add custom mining software to my machine?
ASICs typically come with the manufacturer's operating system loaded. Ask the provider's team if they provide any operating or software  support, and if you are able to load alternative programs of your choice for your mining machines.
Pay Out & Results Dashboard
How often are mining proceeds paid out?
Check with the provider to see how often they pay out mining proceeds, and the minimum payout threshold.
Also, find out which currency is used for payments. For example, does the company pay in Bitcoin (BTC) or dollars? 
What happens in the event of an operating loss from mining ?
Some mining companies will pause mining in periods when financial losses would occur (by calculating the value of the currency that would be mined relative to the operating expense), so that customers will never experience a loss.
How do I monitor my mining payouts on a dashboard?
Most managed mining companies offer you a way to check your mining results.
Crypto Caverns, for example, offers an online mining interface with real time information on profits.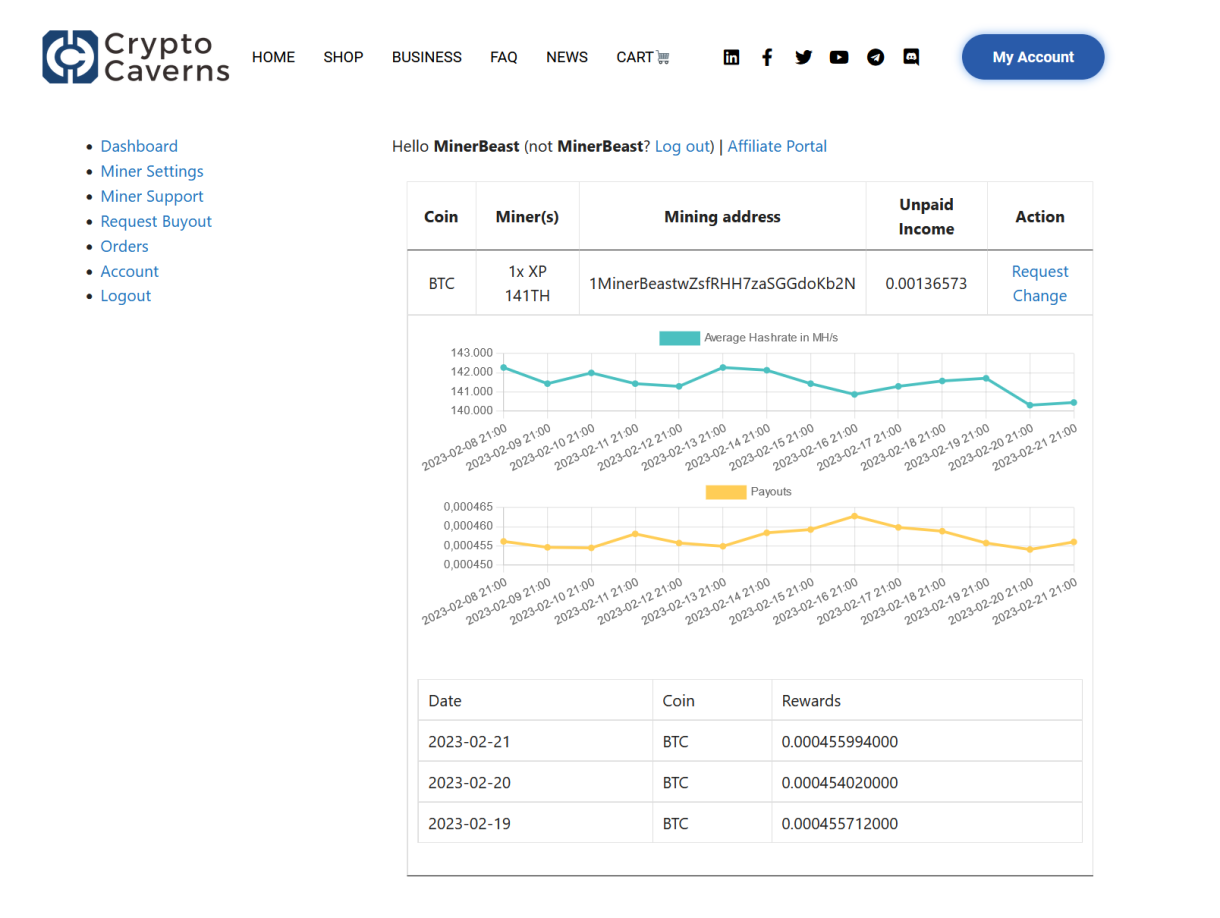 Pros of Online Managed Mining Plans
Easy to enroll in minutes from your desktop or device to mine with a high-power mining machine
No time, expertise or facilities required, as professional mining companies handle everything
Typically cheaper energy rates than residential electricity accounts (often using "green energy")
Machine repair and maintenance, and security included in energy rate 
Guaranteed mining uptime (typically 95%+), with redundant network and backup power 
Special climate control and 24/7 monitoring to better extend your machine's life
Real time dashboard so you can monitor your profits on your device
Cons of Online Managed Mining Plans
Requires an upfront investment in ASIC mining machine, usually of at least $1,500 (the cost of equipment today is a fraction of what it was in 2022)
Some mining companies may require customers to buy or provide multiple machines, increasing risks
If you choose a poorly-operated mining company, your mining machines may receive poor maintenance, and mines in foreign countries run an especially high risk of lost, stolen and confiscated machines 
Mining companies may not operate machines beyond their third year due to higher repair costs
Energy fees may increase after the term of your contract due to rising energy prices
If a mining company goes bankrupt, your machine could be at risk; a hacking event could place the funds in your crypto wallet at risk, but you can reduce your risk by withdrawing your funds as often as possible