Crypto Caverns Plans
Crypto Caverns Online Managed Mining Plans
Simple, low-cost home mining platform: Crypto Caverns was founded in 2017 and is the first crypto home mining company to be accredited by the BBB. Their service is ideal if you wish to earn Bitcoin (or other coins) but don't have the technical expertise, equipment, and time to self-mine with a DIY home mine set-up, or your home electricity rate is too high for mining to be feasible.
Crypto Caverns' online managed mining plans offer a very simple method for mining, backed by professional management and low-cost renewable energy that will help both beginners and professionals to mine profitably. Their mining operations are located in the United States and feature 100% hydroelectric power.
Be sure to read our Managed Mining Plans Guide for details on how home mining plans work.
What they offer: Crypto Caverns' online mining plans include the purchase of a mining machine and their management service. The convenient mining service includes set-up of the equipment and full management of the mining process at their "mine" (data center).
The Crypto Caverns team does all the work. You simply monitor the results and collect your mining proceeds. 
You can enroll in one of their online plans in minutes from your computer or mobile device. Once you enroll and set up your account, a high-powered ASIC mining machine (a computer that mines Bitcoin and other coins) will begin mining on your behalf within days, and generating crypto currency which is placed in your online wallet.
The mining service, including repairs and maintenance, is included in the energy rate you are charged. The Crypto Caverns electricity rate is lower than most residential electricity rates in the US.  
You can either purchase your ASIC from Crypto Caverns at a reasonable price or ship them your own for installation (if you send your own, there's a slotting fee).
Good news: if you use our MinerBeast promo code (minerbeast2023), you'll receive a discount on your purchase. Note that MinerBeast receives a modest referral fee from the mining company, which helps us to offset the cost of publishing our valuable free content.
The Crypto Caverns Managed Mining Plans include:
Purchase of your ASIC computer (which you will own and have title to) at prices that are a fraction of their peak in 2022. If you already have an ASIC, you can ship it to them instead of purchasing one. See photos of two ASICs and the related mining plans below.
Low-cost electricity with a fixed rate to power your ASIC, which will not change for the term of the contract (similar to fixed-rate home electricity plans).
Personal service with quality support, free repairs and maintenance, and guaranteed uptime rate of 97%.
Crypto Caverns supplies everything else and there are no hidden fees.
Consider risks when investing.
Investing in cryptocurrency, and crypto home mining equipment and services, involves risk. Consult with a qualified professional and conduct due diligence before making any financial decision. MinerBeast helps the mining community by providing information, but does not make recommendations regarding investments in home mining products and services. Our content depends on the accuracy of information provided by industry sources, which can change quickly and cannot be guaranteed. We make no representations or warranties about the accuracy, completements, or timeliness of our content. Use of information available on or through this website is at your own risk. See our Terms.
Low Cost, High Efficiency Plan
7¢ energy, Whatsminer M50-120 TH/s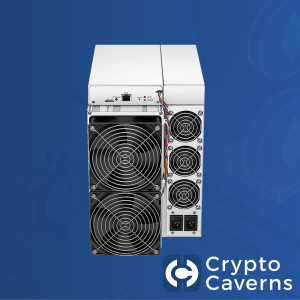 Send Us Your Machine Plan
7¢ energy + Slotting Fee
Crypto Caverns is one of a small number of mining companies that provide customers the option of mining with just one machine rather than requiring a high minimum number of ASICs to start. Of course, you can scale up to use as many machines as the company's facilities have the capacity to support. 
Smaller companies with personal service are best: We first met the Crypto Caverns team at conferences and were impressed with their technical knowledge, passion for mining, and customer orientation. We like the fact that they are a small, tight-knit team, and are in a better position to deliver personal service and take better care of our MinerBeast members.
We've found that bigger is not better when it comes to home mining companies, as evidenced by the nightmare stories of customers who report the loss of equipment, downtime for extended periods, financial instability and generally poor customer service. We like the smaller operations who take care of customers.
Areas for improvement: Crypto Caverns has succeeded in part because they have a loyal customer base and have not tried to grow too fast at the expense of customer service. However, their slower-paced growth means they can only add a limited number of new customers per year. There may be times when new customers must get on their waiting list, and you may experience this when you enroll in a plan.
Special Landing Page for MinerBeasters: The button below, as well as others on this page, will take you to a special landing page for MinerBeast visitors on the Crypto Caverns site, which explains their service with common language (versus crypto speak) and should be easier for beginners to understand.
Below are factors we considered when selecting Crypto Caverns as one of the few home mining companies we will include on MinerBeast this year.
Low, Fixed Electricity Rate
A fixed electricity rate of 7 cents per kWh is unusually low for managed mining plans for home miners. You are guaranteed the fixed electricity rate for the duration of your contract term.
Crypto Caverns does not charge additional hidden fees for excessive power use or bandwidth usage.
Customers can speak to a technician to get assistance at the Crypto Caverns toll-free phone number, or receive a response through email or other communication portals.
In contrast to many larger companies, which require customers to use or order multiple ASIC mining machines, Crypto Caverns allows customers to begin with only one machine if they wish. This minimizes your risk, and you can scale up as you learn the ropes and experience the company's service.
Repairs Included in Price
Crypto Caverns handles all maintenance and repairs performed at their facility at no additional cost. But note that Crypto Caverns does not host ASICs after their third year of operation. At the end of the third year customers can choose to have the rig sent to them, upgrade or have Crypto Caverns buy back the computer.
Crypto Caverns guarantees an exceptional 97% uptime for mining operations. If your equipment goes offline due to maintenance or needs a repair, they will swap it out with their equipment to minimize your downtime.
Crypto Caverns has held an accreditation and an A+ rating from the Better Business Bureau, and you'll probably be hard-pressed to find another crypto mining company that can say the same. If you find one, let us know.  In today's market, this is an especially impressive indicator of quality service and stability. 
Competitive ASIC Equipment Prices
Crypto Caverns offers ASIC mining computers at competitive prices, or you can ship your own ASIC for installation in one of their facilities. Of course, you will hold the title to your equipment.
If you supply your own ASIC machine, there is an $800 one-time rental/installation fee called a slotting fee. If you purchase an ASIC from the company, there is no rental/installation fee.
Hosting Fees in Years 2 and 3. Buyout Option Anytime
Crypto Caverns offers mining plans with various term lengths, plus the option to exit the contract and sell your equipment at the end of each year of the agreement. You can also request a buyout at any time.
If you continue beyond your initial one-year contract term, the company charges a "hosting" fee for the second year of $150.00 and  $300.00 for the third year. 
All of the mining equipment you purchase from or send to Crypto Caverns will be used in the United States, which will reduce the risk of politically unstable environments. Facilities are protected by security.
Choose to Mine Bitcoin or Other Coins
Crypto Caverns allows you to choose an ASIC that mines Bitcoin (BTC) or to select an ASIC that mines other coins which may have a higher return on investment at any given time, such as Dogecoin (DGE) and Litecoin (LTE).
The Crypto Caverns mining facilities are powered by 100% hydroelectric power.
During checkout, when you enroll you will be prompted to enter your coin address from your crypto wallet. 
If you haven't already set up a crypto wallet, here are instructions from major wallet retailers on how to set up popular wallet options: Exodus, Trust.
Once you have experience with a digital wallet, you may choose to purchase a physical wallet. Some popular suppliers include: Trezor, Ledger Nano S Plus.
For a list of all FAQs, visit www.cryptocaverns.com/faq.
Crypto Caverns's dashboard allows you to monitor your mining activity and currency proceeds in real time on your desktop or device. Plus, it provides you with the ability to change the wallet attached to your account at any time.
Tour the Crypto Caverns Facility
Mining-Related Articles by Crypto Caverns